Ketland Officer's Fusil - $675

I've been wanting to reproduce this gun for some time now, and I feel the time is right for it!
We have made a couple of changes to the gun to make it reenactor-friendly, but they keep well within the spirit of designing a reproduction as the original gun was a custom job and the changes could have been made in 1757 just as well as in 2009.
Please read the entire text below before asking tech questions about this great new musket!
---

This musket is our rendition of a Ketland fusil. It is in .62 caliber smoothbore. The barrel length is 36" long and the musket is 52" long overall. We will be uploading more photos of the production guns ASAP. The gun shown in the photos below is the prototype, there have been a few minor changes to the production guns, such as adding correct lock markings and engraving, softening the comb of the gun, and refining the triggerguard finial. Several years of work went into this design, but it was worth it because the finished production guns are exactly what we wanted them to be. The original gun is in our reference collection, and if you are ever in the area, feel free to stop by to compare it to the reproduction.


Click on the photo to see a larger version, use your browser's "back" button to return here.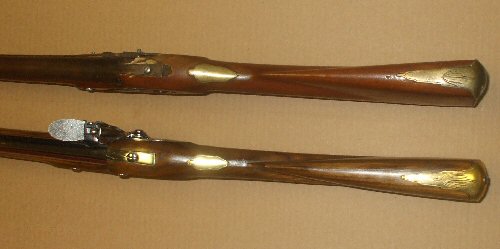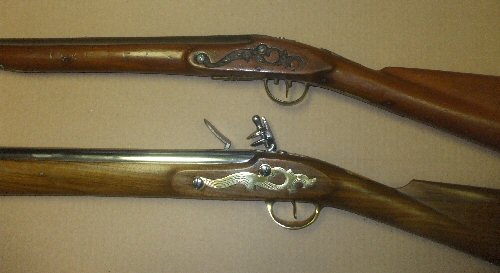 Click here to see more photos of the original gun that this piece is copied from.
Here is the Ketland fusil story:
Circa 1990, I stumbled on to the original piece at a gun show, it was for sale for $125, and I got it for $100. It was missing it's rammer, one thimble, the sideplate and the lock had been percussioned. Yeah, sounds like a wreck, but in the grand scheme of antique guns, for $100 that is still a great deal and quite restoreable, since the stock hadn't been cut back to "modernize" it in the 19th century like so many others. I began the restoration process, in that I removed the drum and fabricated a touchhole liner for it. Then the project lay dormant for about a decade.
Around 1998, I got it in my head to build a copy of it to shoot. The resulting gun was a one of a kind custom that had almost $800 woth of parts into it, not counting labor. All of my friends saw it, and everybody wanted it. It is way lighter than a full-sized military musket. My copy was done with a 12-ga barrel, and I can hit a 3" gong at 40 yards with it.
A few years went by, and various people badgered me about doing a production gun based on the Ketland. I figured it's time had come, so I began to work out the details. Two years ago, Mark Humpal (big time antique dealer in this area who specializes in original Native American stuff and colonial frontier stuff) came up with a gun that was nearly it's twin at the Brimfield Antiques show! It too had been percussioned, but it was otherwise complete and had it's sideplate, so we have a rubbing of it to see exactly what the engraving should be (a dragon). This same sideplate shows up in Hamilton's book "Colonial Frontier Guns", there are about 8 others known to exist, mostly from archaelogical contexts.
The original gun has a .53 cal smoothbore barrel, 36" long. It is not cut for a bayonet. For practical reasons, we are doing the production guns in .62 cal. If you are a reenactor, and the gun were made in .53, you'd have to make your own 70 grain cartridges because 100 grains is just too loud in a bore that small. If it is in .62, it is large enough that you can use "borrowed" cartridges mooched from other people in your group, casualties etc. The other change we are making from typical "Ketland" guns of the era is to add a bridle to the frizzen screw. This makes for a stronger, faster lock and makes mounting a flashguard soooo much easier. If someone wanted it to be 100% correct as a Ketland style lock, all he'd have to do is grind off the bridle and shorten the frizzen screw. It's much easier to remove metal than to add it!
We feel that the original gun was custom made for an individual since there is so much cast-off to the butt. You can shoulder it and take aim using your left eye! The reproduction is being made with a straight stock.
In typical Ketland style, the barrel is marked "London" on top, but had Birmingham proof marks. Many Birmingham guns were marked London because it made them seem classier. Kind of like today when we pretend our cars and trucks are made in Detroit, but are really from Mexico and Canada.
We got quite a surprise when we removed the barrel from the stock. On top, the barrel is brown from age and handling, and we assumed it would have been bright when new. Nope. Under the woodline, the barrel showed it's original blue finish! I had read referances to certain French guns being blued in the 18th century, and some English fowlers and shotguns, but never a paramilitary piece like this!
We were going to have the reproduction Ketland blued as well, to be 100% authentic, but all of the people who were interested in the gun were resistant to the idea for whatever reason. The way I see it, if you have a chance to do something correct but controversial, it makes sense to do it and use it as a teaching moment. To satify the people who are afraid to make waves and have a blue gun, no matter how correct it may be, we ended up doing the copy in polished steel instead of blue. For those of you who are not afraid to make waves and explain to others that bluing IS historically correct to the 18th century, we offer bluing at an additional charge.
It has a Brown Bess style thumbplate, only scaled down to fit the gun. The rammer thimbles are sheet brass (repro will use cast thimbles). There is no nose cap. In looking at the spacing of the thimbles, there is a possibility that the barrel has been shortened as the spacing is not symmetrical. We are doing the repro of the gun "as-is", compete with assmetrical spaced thimbles, as it is to be a copy of this particular piece.
This is a pet project for me, I have been on the fence about reproducing it for a long time and have spent a lot of time studying other Ketland pieces. I have another Ketland musket in my collection that has been converted to a halfstock and have also had the privilege of examining many original muskets made by the Ketlands in private collections and museums. Now it is finally available and you can have one too!
---